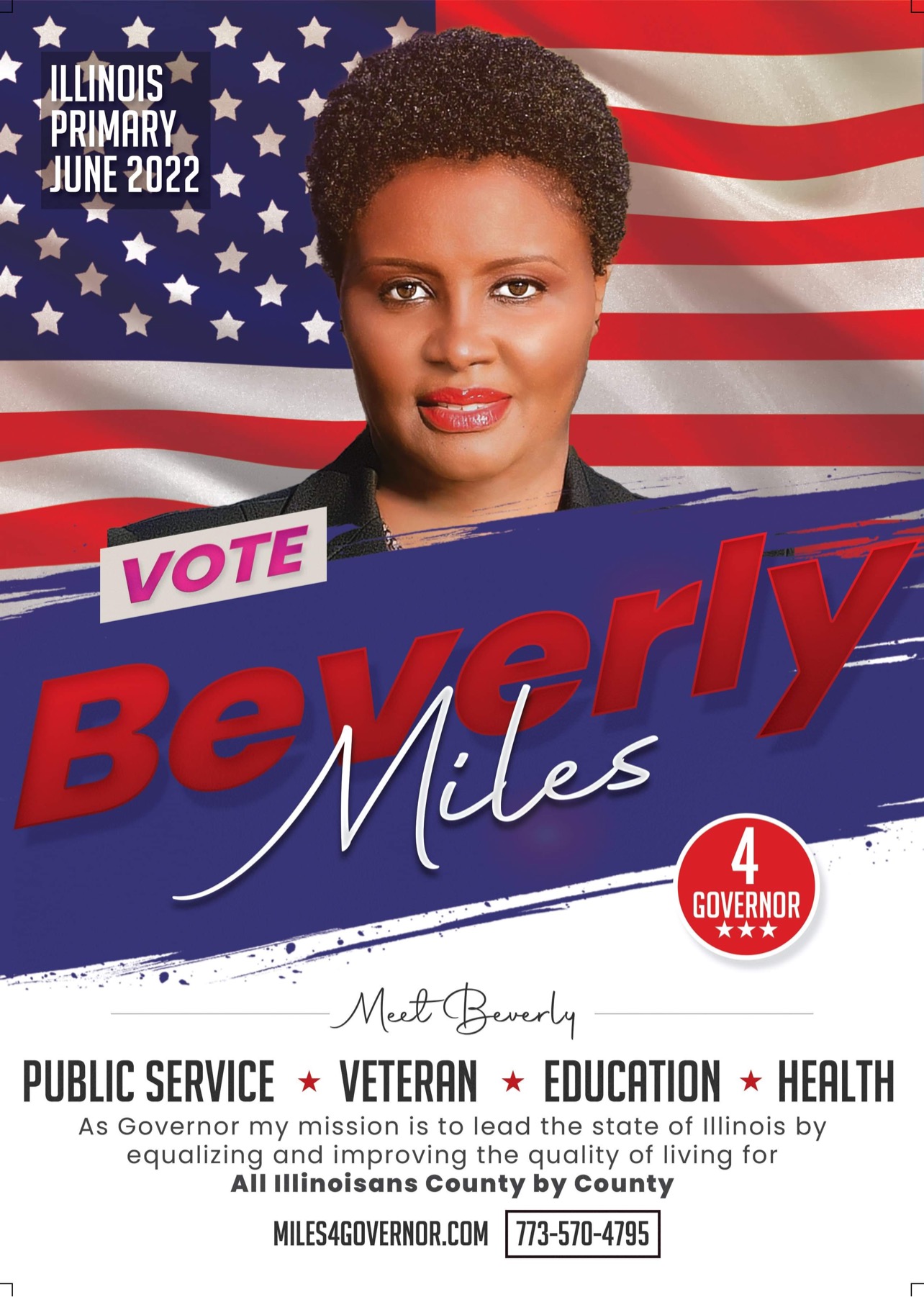 Get to Know Beverly
Beverly Miles a lifelong resident of the west side of Chicago, West Garfield Community. She is a double masters prepared registered nurse with more than twenty years of nursing experience. Beverly Miles also contributed to safeguarding our great country by entering the United States Army officer in 1999 as a second Lieutenant and retired at the rank of MAJOR in 2014.
After her military retirement, she returned to the community that raised her and quickly became active in community activities such as people-on-people violence, police misconduct against civilians, participating in liter campaigns, feeding the risk during COVID-19 pandemic to include spending time with the youth by transporting young men to community basketball games and tournaments
Background:
Beverly Miles nursing experience ranges from Trauma, Medical/Coronary Care ICU, Telemetry, Med-Surge, Military Credentialing, Career Management, Case Management, Correctional Nursing, In-patient Acute Care Nurse Manager, Long-Term Care Director of Nursing, Quality System Improvement, Bed Flow Nurse Coordination, Nurse Consultant and VA Accreditation Agent (Veteran's Disability Compensation) who audits/interprets veteran medical records while consulting Veterans on how to navigate the VHA disability compensation and IDES process from start to finish.
In 2019 she participated in the City of Chicago City Council election, aldermanic candidate for the 28th ward. Even though she did not win the election, that electoral process taught her a lot about the interconnections between; local, state, and federal government. In December of 2020, Beverly Miles was elected as the vice president of national nurses united, nursing union a VHA local chapter. January 2021, she was appointed as a member of the City of Chicago's Advisory committee on Veteran Affairs.
Leadership:
Beverly describes her leadership style as transformational and democratic, depending upon the situation. The greatest joy she has received is for nearly three decades within nursing is mentoring, advocating novice nurses and Veteran's alike. Beverly strives to be the change agent and strives to see progression within every aspect of her life both personal and professionally. Beverly's motto is "I served my country; I now stand to serve the great state of Illinois ".
Civilian:
• Chamberlain College of Nursing, Master of Science in Nursing Family Nurse Practitioner (2017)
• Chamberlain College of Nursing, Master of Science in Nursing, Informatics (2014)
• Indiana Wesleyan University, Marion Indiana, Bachelor of Science in Nursing (2009)
• Kennedy King College, Chicago, Illinois Associate of Science in Nursing (1997)
• John Marshall High School Chicago Illinois (1985)
• Clarksdale High School, Clarksdale Mississippi (1984)
• Clarksdale Jr. High School, Clarksdale Mississippi (1981)
• Helen Heffernan Elementary School Chicago Illinois (1980)
• Marconi Elementary School, Chicago Illinois (1979)
Military:
• Command and General Staff (ILE) (2011)
• Advance Nurse Leadership Course (2011)
• Captain Careers (CCC) (2009)
• Officer Basic (OBC) (2001)
Twitter feed is not available at the moment.